Chelmsford Wing Chun.
Instructor: Sifu Mark Solomons
School Type: Hourly Rented Venue
Facilities: Toilets, Showers, Changing Facilities and Refreshments.
Location: Springfield Parish Centre, St Augustines Way, Springfield, CHELMSFORD CM1 6GS
Students Profile: Beginner to Advanced.
When: Tuesday 8:00pm
Telephone: Sifu Mark Solomons (mob: 07791 167011)
Email: marksolomonssifu@gmail.com
What can I expect?
At the Chelmsford Wing Chun club all levels, begin with a warm up in order to get your body and mind prepared. The warm up is likely to include press ups of varying intensity together with abdominal work. Sometimes, the warm up may be more aerobic in nature.
Beginner Classes are encouraged to focus on the basic core skills and concepts in order to build a strong foundation to aid progression. You will learn how to deliver effective punches, and other strikes, and develop the ability to generate power from short distance.
It is in this class where we start to learn the apparent stillness of Wing Chun's first form, Sui Nim Tao (Little Idea Way). Hidden within this form are ideas and concepts to protect yourself and to obtain a 'little idea' on power generation.
Footwork skill is important, you are unable to open the door if you cannot reach it! You will quickly pick up smooth and efficient footwork that will enable you to bring your Wing Chun to life.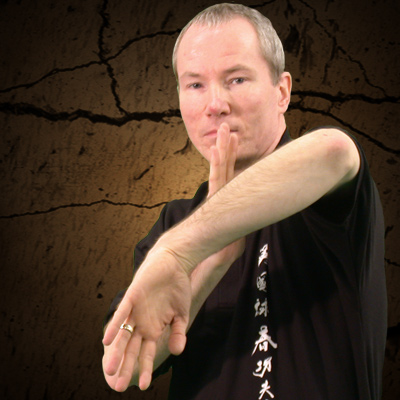 Chelmsford Wing Chun Intermediate classes start to build on your developing foundation of this great style. It is here where we further enhance hand skills by way of drills like Lok Sau (Rolling Arms) and Dan Chi Sau (Single Sticky Hands). Among other things, these skill-sets will increase your reactive speed together with feel and flow of power, enabling you to explore your increased ability with different training partners.
With your increased knowledge and ability the concepts of Sui Nim Tao will start to embed into your movement and expression.
Moving hand combinations/drills, defence and attack, will test your distance judgment in an enjoyable way and build your confidence even more.
Chelmsford Wing Chun Advanced classes take all that you have learned so far and give you more ways to apply your ,already, considerable skill. Where you were applying moving hand combinations you will now be acquiring the ability to perform direct, effective, kicks as well.
Seung Chi Sau (Double Chi Sau) will test your coordination together with application of your acquired skills. The opportunity this presents is limitless and training with like minded people is fun.
In any class there may be sparring sessions tempered to students current ability. Your fitness may be tested to the limit with pad work. Can you still fight back when your body is saying, 'let me rest'!
All classes have several things in common:
They are enjoyable
The quality of teaching is excellent
Attention to detail is never overlooked
You will meet new people and make new friends
There are no barriers